Well, for those who are quite an open minded person, this is fairly one of the recommended movie. If you like The Da Vinci Code, you will like this movie as well. After all, it is an adaptation from the same author of Da Vinci Code book.
It consist A LOT OF Biblical and scientific terms and eventually you will lost in translation of the terms used. Maybe you could do some digging before going for the movie.
The pacing of this movie is faster then previous film and in fact the are only a few days story and the main content is just within a day!. It is the puzzle versus time movie. The faster you solve the puzzle the more chance you have win the game and destroy evils of course~. But Ron Howard made a good job in entertaining the audience. You will laugh at some of the scene where the jokes was well made even in the middle of breathless race against time.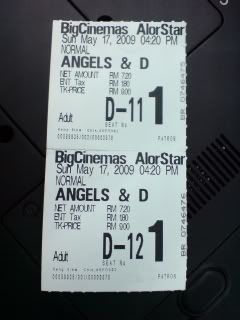 Overall, you will once again be astounded and thrilled by the rich Roman history embedded in the story and the clues that lead them to uncover the inevitable truth. RECOMMENDED for everyone. For muslims, have faith in our GOD!
This animation? Well, I personally disappointed with these monsters and aliens. The storyline just like .... you know it very well and it was very loose. You can see the loopholes everywhere.
However, the are some scenes where you will laugh at your might but that's it for the make up of tons of rubbish inside.
The conclusion, it is NOT RECOMMENDED for an adult who has no strong sense of humors and who are expecting the unexpected. Just wait for the DVD. ~I mean download it using the torrent after the DVD release. Don't waste your money.